Ageing is a beautiful process. People with young hearts have a slow ageing brain. So keep your heart young. The outer appearance is for time being what matters most is the inner beauty. I know a beautiful dress makes you more attractive and gorgeous. Think positive, embrace life as it comes your way, and make the best out of it. Getting old is a natural process so accept it gracefully.
Wear self-confidence on your face and always think, "I am amazing." when you walk into a room everyone sees you first, the outfit comes later. So wear self-confidence first which creates a magic aura and brightness in the atmosphere. Of course, Style will follow you automatically.
At 40, you must be having your signature look and sense of style. According to your age, your style should be urbane and elegant. Dressing smartly and elegantly matters a lot, it enhances your personality. You should represent yourself gracefully.
1. DRESS ACCORDING TO YOUR AGE

Don't dress up to look like a teenager, to look younger. Embrace your age and choose simple clothes with a modern look. You can wear the same clothing but with a different style which suits your body shape and looks elegant on you.
Style changes, but don't start collecting vintage clothes as a hobby, ditch duds that give you high school feelings. Donate clothes and make space in your closets to add fresh ones. Avoid hoardings of dresses this builds chaos about what to wear.
2 . DON'T CHOOSE OVERSIZE CLOTHES
Don't wear oversize clothes which have no shape and give you a shabby look. You look old in loose-fitting clothes. So avoid wearing them. Always go for accurate fittings showing your body shape. A well-dressed person always looks presentable and smart.
3. OPT FOR SMALL PRINTS OVER BOLD N ABSTRACT ONES

Choose small prints over big, bold, and abstract ones. Small prints give you a sophisticated look. Bold prints are definitely in style but to look elegant choose your prints carefully. Bold prints make your tummy area, butt, and thighs look larger hence you will look older. Small prints will make you look younger, smaller, and more sophisticated.
4. AVOID TIGHT-FITTING CLOTHES
Avoid wearing tight-fitting uncomfortable clothes. Discard old clothes which do not fit you longer. Accept your body shape, which changes with age. Add new clothes according to your body shape. Change your wardrobe to make it simple yet sophisticated and modern. Wear clothes that make you comfortable.
5. AVOID WEARING HORIZONTAL STRIPES

Horizontal stripes add volume to your hips and tummy area. It makes you look fatty. Avoid wearing them as with age mainly ladies get fats accumulated in this area. So accordingly you should decide on your clothes.
6. AVOID WEARING A SHORT CARDIGAN

Avoid wearing cardigans with a tie in the belly area, sometimes it highlights the lower belly. More fabric gets accumulated in this area and gives a bulky look around your belly.
Rather go for long cardigans which give a modern look because of their length and simplicity.
7. CHOOSE COMFORTABLE SHOES/SANDALS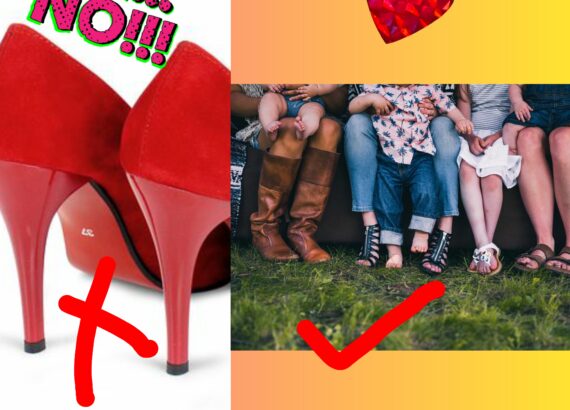 Shoes completely change your looks. Always go for simple and comfortable shoes. Wear shoes which you can carry for a long time, comfortably. Go for Flats, Sandals, and Booties whichever suits your dress.
8.  WEAR APPROPRIATE NECKLINE 
V neckline makes you look younger rather than closed necks. A neckline matters to enhance your look.
9. WEAR TASTEFUL JEWELLERY
Always choose elegant jewelry, bold and heavy jewelry puts on a gowdy look and overpowers your outfit.
Yes! Bold jewelry is in trend you can wear them if they look chic and sophisticated. Go for classic or oxidized sets which fit all attire.
10. WEAR THE RIGHT SIZE UNDERGARMENTS
Undergarments provide your body shape and enhance the look of your dress. Right-fitting undergarments are essential to make you feel relaxed and give your body an ethical shape hence a genteel and elegant look. If your body parts are bulging out from your undergarments that means it's time to change them and take a larger size.
Always go for good and right-size undergarments that make you feel comfortable and confident.
11. WEAR STYLISH SUNGLASSES 
Sunglasses can greatly modernize your look and features.
Wearing cat-eye glasses can  lowered the outer corners of the eyes and make you look younger. Now a days large sunglasses are in trend and it looks funky.
Small size sunglasses can show your face plumpy.
12. TAKE GOOD QUALITY AND CLASSY HANDBAGS
Always use good quality, spacious.  handbags . Buy some common colours like red, nude, golden,black which matches with most outfits.
You can go for chic and colorful tote if you want large bags or sling bag whatever that suits according to your outfit.
Please note :
These are just GENERAL guidelines and some of my personal preferences. They certainly don't apply to everyone.